Cross Country Workshops
Saturday 30 March 2019 starting at 14:00
The British Junior Gliding Team are hosting a series of Workshops and Talks of interest to glider pilots of all ages and experience during the early part of 2019 in order to raise funds for Junior Team competition expenses. On Saturday 30 March they will be visiting The Mynd.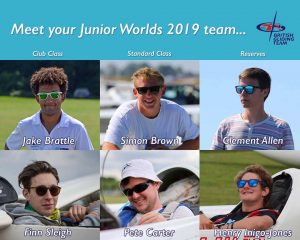 Current British Team members Jake Brattle, Simon Brown, Peter Carter, Finn Sleigh, Clement Allen and Henry Inigo-Jones will be presenting the programme  below.
The event is for members of the Midland Gliding Club and neighbouring gliding and flying clubs. There is no charge for entry but those attending are respectfully requested to make a contribution to the British Junior Gliding Team fund.
We will need to have an idea of numbers so if you wish to attend, please notify the office which talks and workshops you will attend and if you require an evening meal.
14:00 – Workshop on How to fly Cross Country faster
The workshop will include a detailed look at:
The very important basics – handling and look out techniques
How to prepare for a flight effectively using British team planning techniques
How to choose when to start
A detailed look at speed to fly – (please bring your own glider's polar, a pencil and a ruler with you)
Routing + thermal selection – with pictures from real life routing dilemma
Centring techniques – a close look at common mistakes, how to adapt to conditions
Getting low – how to focus your attention and what to look for
Efficient final glides – Including a look at some real traces
How to carry out effective post flight analysis – we will show you how to best analyse all of your flights
Self development techniques
This workshop should last approximately 2-3hrs with regular breaks. The Junior Team recommends everyone bring note taking materials. They will have some hand-outs for attendees to complete too.
17:30 – A workshop on flying your first competition:
What preparations you need to do beforehand,
We will show you how the British Team plan a flight,
We will show you how to plan an AAT,
How to plan for terrain and weather changes and airspace,
Mental approach and objectives,
Post flight analysis in a competition,
Self development.
This workshop will last 1 hour.
18:45 – Adjourn to the Bar and Dinner
The usual legendary and unsurpassed Mynd Saturday night feast awaits.
19:45 -After Dinner Talk
Following dinner there will be a talk on a topic to be decided by the majority of attendees on either of the following:
Preparations of the British Junior Team for the Worlds 2019
OR, Use of equipment for XC and competition flying
The evening talk will last approximately 1 hour. All finished by 2100.
The Workshops and Talks should be of interest to glider pilots and aviators of any age and experience level.