Hi everyone, this is the regular Thursday posting to let you know what is coming up in the near future and let you have the highlights of the last committee meeting.
Last week:
Juniors' Week
The Club's own junior members (not the BGA lot!) gathered all last week for some concentrated training. Holly, Jared and Barnaby all put in some hard work. Mixed weather meant that they flew in changing conditions and all continued to progress through the Club's syllabus. Briefings were given when weather prevented flying. It was very noticeable how better they all were by the end of the week, and it just shows how a period of regular training helps to improve skills. Well done to all three!
Retrieve winch
This still isn't back from Skylaunch and Guy Hartland is chasing vigorously, if we have to do Land Rover retrieves then this loses a significant amount of money.
Cross Country refresher week
This has been a fabulous week with a full set of briefings on Monday followed by 5 cross country flights in Duos on Tuesday and 4 in the motor glider. Yesterday in poor conditions we achieved several General Flying tests for Bronze and 3 more Duo cross country flights using a small task as recommended by Kevin Atkinson on his Aim Higher initiative. This small task proved extremely effective in being able to teach all of the skills required for a cross country. Still 2 days left to go!! The club would like to express its thanks to all of those DUO owners who gave up their time to fly budding pilots around and to Steve Male and Simon Adlard and Rob Hanks for such excellent organisation.
In the attached photo we have a group of course members with a combined IQ of over 100 working out how to turn a PDA on.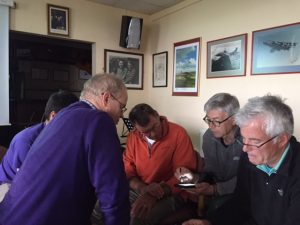 We have a new Vitara!
Julian Fack is running our Land Rover replacement project and has obtained another Vitara for us. We will be publishing more on the overall plan when the new vehicle arrives.
Membership survey
Thanks to everyone who took part (72 of you) please see below the item on the "Priority Grid" to see what we are doing with the feedback.
ATC
Paul Fowler, Steve Male and the Chair have been in long term negotiations with the ATC and the first group will be flying with us this Saturday. As always please make them welcome.
Weekend outlook:
Your team this weekend is: Clive Crocker, Nigel Lassetter, Stephen Alexander, Mark Wakem, Chris Alldis
Forthcoming events:
Winch Launching has changed!! A reminder
You all should have an email re the above, in essence:-
Essentially the process of the winch launch has not changed but the procedure we use to facilitate the process has changed.
1) The new procedure highlights the responsibilities of the Retrieve Winch Operator – this not a change as such but reinforces the responsibilities defined in Laws & Rules.
2) The "Wing Tip Holder" now ONLY holds the wing – they do not signal
3) The person who attaches the cable to the glider becomes the "Wing Tip Signaller".
4) The "Wing Tip Signaller" now ONLY signals "Take Up Slack"
5) The "Retrieve Winch Operator" decides when all the slack is out of the cable by observing the glider beginning to move forward – and ONLY THEN changes to the "All Out" signal.
This new procedure became effective on Monday 17th April i.e. Easter Bank Holiday Monday
So far it appears to be working very well.
June the 3rd 4th and 5th. Aim Higher practical
This course is filling up fast, and I urge you to get your bronze so you can take advantage. I am absolutely delighted to tell you that Kevin has agreed to provide a "practical" aim higher course on the above dates. This means we get the best of both worlds, the theory then followed by the practical after we have all had a chance to practice. We are really privileged to be able to offer this combination this year so get your bookings in to the office as soon as you can.
Fleet: we are selling the Discus!!
As soon as we can get a replacement aircraft we will immediately move the Discus into the workshop to get it ready for sale then put it into its trailer. This is part of the strategy outlined by the CFI at the AGM. We expect, at current prices, to put it up for sale at £16 000 or above and will allow a fortnight for members to form syndicates or make an offer before putting it on the open market.
Summer celebration
Mac is organising the "longest day, open day" recruitment drive on the 24th of June. In addition we want to increase the activity and the interest for members. Years ago we used to run a "dawn to dusk" day and we are going to combine the two. It is fantastic fun, we run in shifts and do "shedloads" of launches (or words to that effect). Please drop me an email at the address below if you would like to help out for a shift, everyone is welcome and I guarantee you will have a great day.
Highlights of the committee meeting held on the 14th of April 2017
The new committee welcomed Rob Shepherd (buildings) and Tim Mason (grounds).
We have an annual grant for the Environmentally Sensitive Area status and this is late in arriving. Charles Carter is chasing this for us. He is also chasing the Business rates, we have heard nothing back from the BGA rates team.
We are producing 3 packages aimed at recruitment and retention. Jon Hall and Sarah are creating the artwork for the vouchers.
The accommodation block roof will be repaired, we have chosen the contractor and will place the order.
The access road will commence with the drainage project. Howard will co ordinate, volunteers to help are desperately needed.
The membership survey will help create the "priority project" grid that John O'Reilly will create, this will enable projects to be initiated that match the criteria "Recruit and Retain".
Auto enrolment. The scheme has started.
Electric sheep fence. Howard will be doing more work on this weekend 22nd of April
Flarm and radio grant. Dave Wedlock will be submitting the application after Easter.
Simulator. Geoff Dailey will help Dave Crowson complete this.
CFI report: One minor incident in March – wheels up landing. For those of you who were not at Kevin Atkinson's Aim Higher course, ask the Chair what WULF should really stand for.
Hospitality. The club web site now hosts the Terms and Conditions (thanks to Paul Fowler) for the booking of accommodation from visitors. We now send a template email asking for a £50 deposit and we don't refund cancellations made less than 30 days in advance.