Hi everyone, this is the regular Thursday posting to let you know what is coming up in the near future
This week.
Bonfire night 4th of November
A fantastic night, yet again thanks to Denise for organising the lighting and the setup and the kitchen who laid on a wonderful supper. The social side of the club is one of our great assets so if you could help in any way then please do let me know.
LUV
From the 1st of September there is a new process regarding imported gliders so we are now learning, with our colleagues at the CAA, how to expedite this as quickly as possible.
Your team this weekend is:
Saturday: Simon Adlard, Nigel Lassetter, Peter Orchard, John O'Reilly
Sunday: Chris Alldis, Charles Carter, Peter Orchard, William Brewis
Forthcoming events
EASA
The Saga continues:-
EASA Pilot Licence Conversion. The CAA has reported that the outcome of the recent EASA Committee Meeting in Brussels, at which the UK Government was represented, has resulted in constructive progress on a number of important matters affecting the GA Community. The Committee voted positively on extending the Aircrew Regulation opt-out date for sailplane and balloon pilots. The BGA pilot licence conversion guidance has been updated to reflect the revised date by which pilots of EASA sailplanes must hold an EASA FCL SPL or LAPL(S), ie 8th April 2020.
Access road
Thank you to each of the members who turned up on Wednesday morning to help with the road repair works. Everyone thoroughly enjoyed a morning of work and witty banter in glorious autumn sunshine and sustained by the free tea and biscuits, we were able to make tremendous progress. Most of the potholes have now been filled and so the road is serviceable again. The next phase will be to improve the drainage. Watch this space for news of when this will happen and if you are able to spare an hour or two to help out, please add your name to the list on the notice board.
The team of Howard Bradley, Steve Foster, Martin McCurdie, Richard Bennett, Clive Crocker, the Chair all ably led by Tim Mason made great progress. There is a prize for naming the hard worker who managed to grab the correct end of the shovel in the photo below.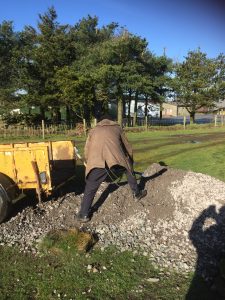 Christmas dinner 9 December
The list is now full, please ensure you have paid Faye the deposit to avoid disappointment!
Winter talks
Denise has worked out a superb schedule for this winter's lectures. They all start at 18:00 and if we have a speaker then we do ask for a small donation on the night to cover their expenses. Book the date, have a few flights, enjoy the talk then have a superb evening meal.
November 25 will be the members evening when the committee will present our strategy for the next 5 years and invite your input and approval. I will provide more information next week but the committee are hard at work preparing facts and figures as well as presentations for you.
January 13 – National Trust. All of your questions answered (who does own the horses?) and the trust's plans for the future development of the Mynd.
February 24 – Julian has very kindly offered to talk about Euro Glide with us. More details closer to the time but I can assure you it is absolutely brilliant and will inspire you.
March 10 – Hugh Browning the BGA safety wizard.
First aid course 15 and 16 November
Once again we are able to offer a first aid course to interested parties see the poster below. Let Mark know directly if you wish to attend.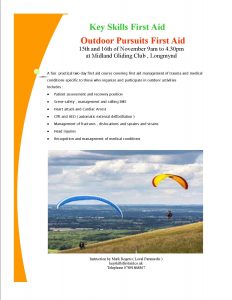 Shobdon events
I am delighted to be able to publish Shobdon's winter events as well as our own. See below:-
The next evening will be on Wednesday 29th November, with two topics:
Choosing a glider and how syndicates work' – by Rose and Iain. Advice for members looking to buy their first private glider, covering suitable gliders to choose and effective ways to organise a syndicate.
Venue: Bateman Arms in Shobdon village.
Timings: 7 p.m. to 9.30 p.m.