Inter Club League (Rockpolishers)
Inter Club League (Rockpolishers)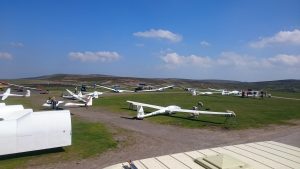 After a successful year in 2019, the COVID-19 crisis caused the cancellation of the 2020 and the 2021 series, but  Rock Polishers is back for 2022!
Rock Polishers is one of seven geographically based Inter Club leagues around the country. At the end of the season, the winners of each league compete in a National Final. There are eight clubs in the Rock Polishers League:
Aston Down, Denbigh, Long Mynd, Nympsfield, Seighford, Shobdon, Talgarth, Usk
(Though this year only Aston Down, Nympsfield, Denbigh and The Mynd are entering teams)
Each event comprises three separate competitions within these classes:
Novice: Pilots with at least an XC endorsement, but never completed a 300k XC flight, or competed at Regional level
Intermediate: Pilots who have not flown a 500k flight in the last eight years, or finished in the top 50% at a National in the last eight years
Pundit: Open to all
You can see the full set of rules and requirements here:
https://members.gliding.co.uk/library/competitions/inter-club-league-rules/
Each team comprises, one Pundit, one Intermediate and one Novice Pilot.
Dates and venues for the 2022 series are  … 
| | |
| --- | --- |
|  21/22 May | Nympsfield |
|  25/26 June | Aston Down |
|  30/31 July | Long Mynd |
As usual, all events will be subject to a Thursday evening weather call, and will be cancelled if the weather is deemed unlikely to be taskable, to save wasted trips. 
We shall need novice, intermediate and pundit pilots for each round. We are also hoping to take a number of two-seaters to the events so P2's can gain some valuable experience. Anyone willing to help out with crewing is always welcome, and it's the more the merrier, so even if you are not in the team, why not bring your glider along and fly from a different site for a change.
Mark Sanders will be coordinating the planning of the Mynd's participation in Rock Polishers 2022, so if you are interested in taking part in any capacity please let him know, either directly or via the office.
Last update: 18 Apr 2022