Gliding Courses, the quickest way to spread your wings in 2022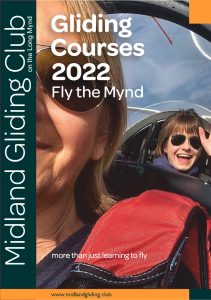 If you are looking for a gliding course, you have come to the right place. We have a rich heritage teaching people to glide since 1934.
Considered as one of the very best sites in the country, with stunning views into Wales, the five-mile-long ridge facing the prevailing westerly winds is ideal for extended fight times when thermals do not oblige.
Our courses are led by professionals supported by experienced instructors. Our accommodation and catering are probably the best in the gliding movement and our bar is stocked with the finest Shropshire beers.
In 2022, our first course will start on Monday, 4th of April and, twenty-three courses later, end on Friday 30th of September.
Courses
Whether you are spreading their wings for the first time, looking for a different holiday experience, or you have a specific flying goal in mind, our courses are for pilots of all levels.
We appreciate that everyone has different requirements. Our instructors will tailor a flying program designed to give you the best chance of making progress during your stay with us.
To speed your progress, we use a combination of:
Daily briefings, outlining the plan for the day
Ground School, to cover the essential theory
Simulator, to lay the foundations of a new skill or to practice flying a task
Gliders and Motor Glider, to perfect skills and bring them all together in the air
Our courses include three months membership of the Club, so you can come and fly at membership rates.
Accommodation & Catering
The Club has a range of onsite accommodation to meet all requirements from the ensuite and private rooms to bunk rooms. If you prefer, you can bring your caravan, motor home or tent. Alternatively, we can recommend a local B&B, public house or hotel.
Prepared with love, the food offered by our catering team goes from simple to a menu you would expect in a gastropub. Could you eat the legendary Long Mynd Breakfast?
How much does it cost?
The headline price, before discounts, for a five-day course with 3:1 or 1 student-instructor ratio is £795 and £595 respectively. £100 deposit secures your course.
Accommodation in a private room starts from £25 or £10 per night if you prefer to camp.
We offer discounts:
Early Booking & Payment – if you book and pay in full before the end of February, we offer a discount of 10% off the accommodation and course fees.
Members – with an annual membership (BGA 2nd Club, Introductory, Full and Junior) are rewarded with a 25% discount off the course fee. Members also benefit from the early booking and payment discount on accommodation and the course fees.
COVID-19 Promise
If we cancel your holiday due to COVID-19, you have the choice to receive all your money back, including the deposit, or book a later course. If you cancel your course booking because, under the COVID-19 regulations, you are self-isolating or unable to travel to the Club, then the same options apply.
To find out more:
The 2022 course brochure and the course booking, and information forms are available by following the links below.
How do I book my course?
To book your course, download and complete the course information and booking form, and return it to the Club. We will then confirm your place and issue you with a "click to pay" invoice for your deposit. This year's booking form is below for reference.
The Mynd – a special place in the heart of every glider pilot
Still got questions? Our office staff are ready to help. During the winter the office is open between 10:00 and 16:00 Saturday and Sunday.
The office phone number is 01588 650206, option 1. During the winter week, we aim to respond to emails.