Residential Holiday Courses, the quickest way to progress
Our gliding holiday courses are simply the best way to progress, whether you want to learn to glide, learn a new flying skill, or just have a great holiday.

We offer holiday courses from two to five days with:-
As much flying and instruction as time and the weather allow, without limits.
A minimum number of flights and flying time guarantee.
Experienced and qualified British Gliding Association instructors.
Dual control gliding simulator (coming soon).
Ridge, thermal and wave flying – depending on the weather conditions.
Intoxicatingly beautiful Shropshire countryside.
A comfortable bed in one of our rooms or dormitories (see below for more information).
Duvet, blankets, bed linen and pillows in the private rooms if accommodation booked.
Washing and hot shower facilities.
Lounge, bar, TV room and all club facilities.
Complimentary membership of the club for three months.
How and what do I learn?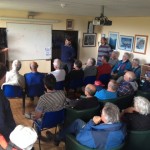 You will normally be in a group of up to four pupil pilots under the care of one of our two professional instructors. Your group has exclusive use of a two seater dual-control glider from 9:00 to 5:30 on each day of the course. From your first flight you will experience the thrill of handling the aircraft as the instructor shows you how to use the controls. You will soon find that you are doing most of the flying while the instructor merely advises or demonstrates. The glider you will fly has excellent performance and allows you to find and explore rising air and use it to the best advantage.
How do we get airborne?
The Midland Gliding Club uses powerful Chevrolet-engined winches to launch the gliders to 2500 ft. above sea level or more. After the launch, a smaller winch is used to retrieve the cable ready for the next launch. With this unique system our main winch drivers ensure that gliders spend the maximum time in the air.
How far can I progress?
That is largely dependent on your aptitude, but with proper training flying a glider is no more difficult than driving a car. Whether you have had previous flying experience or not, you will be treated as an individual by your instructor, and will progress as far as your ability allows. It is unlikely that you will reach solo standard after only one week but many beginners can learn enough in a fortnight of good weather to fly safely alone.
What if it rains?
You will learn that experienced glider pilots are very selective about the weather and limit their flying to take advantage of the best flying conditions. As a beginner you will find that poor weather seldom prevents flying, but if this does occur your instructor will use the time to cover theoretical aspects of gliding in the briefing room. Videos on flying and gliding are also available. The Midland Gliding Club operates a scheme which guarantees each pupil pilot an average of one hour of flying time or six circuits for each day of the course, as a minimum, or free replacement flying at a later date by arrangement if it fails to provide it. If the weather does intervene, the Long Mynd and the surrounding area are part of the Welsh-border countryside and offer many tourist attractions. There is riding, golf and an air museum as well as some of the country's best public houses. You cannot get bored!
Where do I stay?


You can stay at the Club in our own accommodation. All our rooms are centrally heated and double glazed. Beds are available in one of the shared dormitories or a two or four berth private room. Two berth rooms have double beds. Caravans are welcome so long as arrangements are made in advance. We also have a sheltered camping area with water and electricity (coming soon). Complementary bunk bed included in the course fee. Private Rooms at the standard rate. En-suite or Private Double £20-£50 per night. Caravan or tent for up to 4 occupants £35 per week.
Where do I eat?


All your meals may be taken in the clubhouse, provided by our professional caterers. You can have a cooked breakfast, lunch, afternoon tea and a three course supper with vegetarian alternatives. All food is paid for separately.
When do I arrive?
The course begins at 9:00am on the starting date (usually a Monday) but we prefer you to arrive and settle in on the afternoon or evening before. The course ends at 5:00pm on the last day (usually Friday). All the course dates are published in our course literature. As a temporary member you are welcome to stay and fly over the weekend.
Can I bring the family?
Non-flying partners can be accommodated and can enjoy all the club facilities. However, the club and flying field is not suitable for unsupervised young children.
If I bring my family, what can they do while I'm flying?
The club is in the Shropshire Hills Area of Outstanding Natural Beauty; there is a great deal to offer the whole family whether they are interested in activities, culture or just relaxing enjoying a book and the view from the club.
What clothes do I bring?
The Long Mynd is 1450ft. above sea level so, whatever the time of year, you are advised to bring plenty of old warm clothes, sweaters, windproof anoraks, gloves, hat and waterproof footwear. In summer you will also need sunglasses, sunscreen and a hat, but not a baseball cap. Hats and clothing are available to purchase at the club.
What about bed linen?
Linen is provided in private rooms but not in the bunkrooms so we suggest you bring a sleeping bag.
How do I choose a course?
Of course you are very keen to learn to fly, so we suggest you book an early course when the weather is most suitable for training and then book a summer course to continue your new found sport.
How do I book a course?
Download the 2019 courses leaflet and choose your dates.
Telephone the office on 01588 650206 to discuss your requirements and make a booking during office hours or email the office. The office is closed on Thursdays.
Due to the flight limitations of our gliders there is a weight limit of 16 stones (102 kilos) and a height limit of 6'3″ (1.9m). There is no upper or lower age limit but you must be able to get into and out of the glider. If you are under 16 years old we will require a parental consent form to be signed. If in doubt please contact the office for advice.