Getting here
---
 
The Long Mynd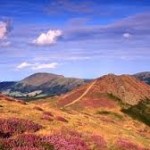 is a range of hills just west of Church Stretton in the middle of Shropshire. The word Mynd in Welsh means "hill" so you can see we are not far from the Welsh border country or "Marches". The Mynd is 1450 feet high, so in the winter it can get snowed in and the roads to the club are steep and sometimes very difficult, if not impossible, to negotiate. They are not gritted in winter. However there are always ways to get here, even if it means leaving a car at the bottom and having a short walk up the hill from Asterton.
We strongly advise calling the club first if there is any concern about the weather to check the road conditions.
Location
Post Code: SY6 6TA
Grid Ref: SO403915
X: 340300m Y: 291500m
Lat: 52:31:07N (52.5186) Lon: 2:52:51W (-2.8808)
What Three Words:  sheets.curly.slung
Driving up the Mynd
There are three roads up the Mynd to the Gliding Club. These are:
from the west, via Ratlinghope. Longer than the others, but not so steep.
from the east, via Church Stretton, up the Burway. Steep.
from the west, up Asterton. Short, but very steep.
All the roads, once you are on the Mynd, are narrow, and single track in places. If you have a good tow vehicle, all are possible (assuming good driving conditions!). Some are easier than others, though.
Route 1: Ratlinghope
This is the easiest route for a trailer, though it is also a little longer than the others.  Click here for details.
Route 2: the Burway
This is via Church Stretton, just off the A49. If approaching from the south, turn left at the traffic lights on the A49, or right if coming from the north. Go over the railway bridge up the main road to the cross roads. Go straight over and follow the road for about two miles to a fork with a finger post. This road is single track and very steep at the bottom but does have passing places.
At the fork bear left to the gliding club, for a couple of miles. You will see it on the left.
Route 3: Asterton
This is the shortest, but also the steepest, and you do need a pretty good tow vehicle to get up it. If coming from the south, it is faster than going via Church Stretton. You can see the route here, from the A49: Asterton route on google maps