What you need to know
---
 
The Long Mynd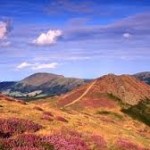 is a range of hills just west of Church Stretton in the middle of Shropshire. The word Mynd in Welsh means "hill" so you can see we are not far from the Welsh border country or "Marches". The Mynd is 1450 feet high, so in the winter it can get snowed in and the roads to the club are steep and sometimes very difficult, if not impossible, to negotiate. They are not gritted in winter. However there are always ways to get here, even if it means leaving a car at the bottom and having a short walk up the hill from Asterton.
Best route with a trailer
If you have a decent tow vehicle it is perfectly possible to get to the club from Church Stretton to the east or from Asterton on the west side.  But if you have a small or less powerful car or are nervous of these routes there is an alternative – less steep but longer.  Click here for details.
How to get here
The A49, the main road between Shrewsbury and Ludlow, runs through Church Stretton. There are buses from the north and south and a railway station in Church Stretton itself.  Call the office if arriving by train and we can probably arrange a collection from the station.
From Church Stretton, if approaching from the south, turn left at the traffic lights, or right if coming from the north on the A49. Go over the railway bridge up the main road to the cross roads. Go straight over and follow the road for about two miles to a fork with a finger post. This road is single track and very steep at the bottom but does have passing places.
At the fork bear left to the gliding club, for about three miles.
Caution is advised especially with trailers. In the winter it is sometimes impassable. We advise calling the club first if there is any concern about the weather to check the road conditions.
Our air to ground frequency is 129.98
Location: SY6 6TA Great Britain
Grid Ref: SO403915
X: 340300m Y: 291500m
Lat: 52:31:07N (52.5186)
Lon: 2:52:51W (-2.8808)
Winter at the Mynd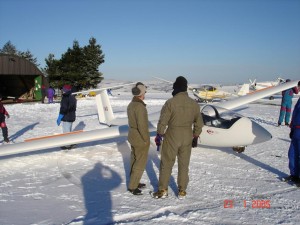 can be a magical place in the winter but it can also be very cold. So, as we fly here all year round, please bring warm windproof clothes, a hat, gloves and sturdy boots or shoes.
In the summer you can wear as little as you like as it gets very warm but always be prepared – the Mynd has its own weather system!
Not just for locals!
Members of the MGC come from all over the UK and abroad to fly with us at the weekends and on courses during the week. We have members that travel regularly from the south coast, from Scotland, from Cambridgeshire and even Norfolk. Some people have a weekend cottage in the country – others have a gliding club!